My resolve is to bring smiles and happiness to as many people as possible.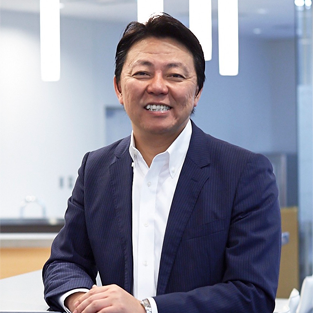 When I began working as a new employee selling condominium units, one of my customers was a young married couple. They liked the property I showed them, and we started the purchase process right away. Unfortunately, they failed to secure a loan to buy the condominium.
Seeing their disappointment, I decided I really wanted to find a great property for this couple. I began collecting property information for them, including information from other companies. In the end, the couple found a property they liked from another real estate company, secured a loan, and bought the property. Needless to say, I was reprimanded by my manager.
However, sometime later, the couple came in to the office with beaming smiles and said, "Mr. Inoue, thank you for putting yourself in our shoes and searching so hard for a place for us. Thanks to your hard work, we were able to find the perfect home! Thank you so much." Ever since the happiness of that couple, I've wanted to do my best to do the same for others. Back then, even for someone within the real estate industry, it was a struggle to find information on residential properties. I can't imagine how hard it must have been for consumers to look at the limited information available to them to make such huge, once-in-a-lifetime decisions. That experience served as the launching point for my desire to create a system in which all real estate information was open and available. That's what inspired me to form my own company and to build the foundations for NEXT(now LIFULL Co., Ltd.).